Find out if you are getting the celebrity freebies this February!
Shy men love leap years. Why? It is believed the lady proposes marriage to her man on this day. Why are we reversing the rules you may ask. Such is the aura of 29 February. The leap day is the sum of a bunch of exceptions. The tradition of 'the lady asking the man out' has many interpretations. But I like to go with the one that speaks of balancing the gender roles on this particular day, the way the leap day balances the calendar. How? Read up.
History of leap year
Did you know the leap year is also called the bissextile year? Every once in four years we have a year with one extra day, which is added to the calendar to correct the drift caused by the astronomical and the seasonal year in the calendar. This process is called intercalation, hence leap years can be called intercalary years. The years without this extra day are called common years. We know each leap year has 366 days – with the additional day being 29 February according to the Gregorian calendar.
Which day can be more amusing to be born, than the Leap Day? You may think being born on 29 February is sad as these birthdays come once in four years. But is it? You may or may not feel like you are celebrating a real birthday in between the leap years, but when you do, on the leap day, you are one lucky leapling. You'll learn why as you keep reading. What are some advantages leaplings have? 2016 has a plethora of freebies for the leap year babies. Let's find out what and where! Before that, are you ready to ask your man out this February, lady?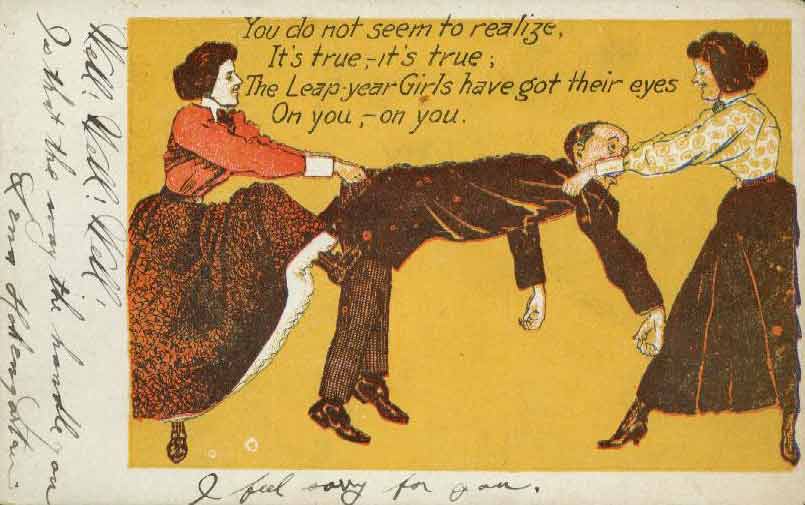 Leap year babies get freebies
We heard that… 'Morton's Steak House' is offering a special dinner on the house to a limited number of leaplings in Baltimore, Hackensack, and Philadelphia. 'Papa John's' will be giving away a free pizza for online orders made by leaplings. But this popular pizza chain has special offers for everyone on 29 February. You don't have to be a leapling to make the most out of this day. For every purchase, 'Subway' is giving away a free cookie. 'Caribou Coffee' is also giving away 'buy one get one free' offer. 'Healthy Harvest Pasta' is giving away good discounts on their boxes. And if you are a leapling, don't forget to carry your photo identity card and/or your birth certificate to redeem them munchies.
Wait, we aren't done yet. Among other offers, 'Walt Disney World Magic Kingdom' in central Florida and 'Disneyland Park' in Southern California will be open from 6 am on 29 February to 6 am on 1 March. Makes me sing Robin Schulz's "Sugar, how you get so fly". 'Body Shop' offers 29% off on all merchandise purchased online. You can claim your discount by using the code – LEAPYEAR. Also, 29% off on items that aren't on sale at the 'Banana Republic' with the code – BRLEAPYEAR, 'Old Navy' and 'Gap' offer 15 % off with ONSPRING and GAPGIFT codes respectively. Lastly, 'Android Market Music' offers a cool price of $2.99 for tracks by Bob Marley, Pink Floyd, The Rolling Stones, Taylor Swift and more.
There is no doubt, the leap day holds more such happy offers. You surely don't want to be home on this day. There's a variety of events happening in every city to celebrate this rare day, the most popular being 'Adele HELLO tour 2016 Belfast' in the United Kingdom. Get out and celebrate, especially if you are a leapling.
Hey, leapling, what's your real age?
You may be turning 40 this 29 February but your real age would be 10. If your birthday appears once in four years, every four years, you turn a year old. The real age of some celebrities born on 29 February was presented by www.leapyearday.com, an American website. Here's the list.
Simon Gagne (Leap Day Age: 8; Real Age: 32) – Former professional ice hockey player
Saul Williams (Leap Day Age: 10; Real Age: 40) – American rapper
Dennis Farina (Leap Day Age: 17; Real Age: 68) – American actor
Tony Robbins (Leap Day Age: 13; Real Age: 52) – American motivational speaker
Mervyn Warren (film composer) and Jeffrey Atkins aka Ja Rule (rapper) are the other celebrity leaplings.
Happy Birthday, leaplings! This is for you –
To leap into the leap year and celebrate 29 February, follow All Events in City | Leap Year Events